Jazz Pianist, Bandleader, Composer, Educator, and Author
NOW OFFERING ONLINE LESSONS VIA FACETIME AND ZOOM!
Hello Friends,
Welcome to my website, where you can find out about my upcoming performances and events. I've been performing as a jazz pianist for over thirty years and have had the great privilege of working with legends such as Benny Golson, Slide Hampton, Tom Harrell, Jimmy Heath, Brian Lynch, Charles McPherson, Frank Morgan, and Phil Woods, among others. 
I am the founder and artistic director of the Milwaukee Jazz Institute (MJI) which promotes jazz education and performance for all ages. I'm excited about the ways in which our events and activities bring people in the community together and bolster our vibrant music scene. Please check out our website (www.milwaukeejazzinstitute.org) to learn about the exciting events, classes, ensembles, workshops, and concerts we are offering. Thanks for visiting, and I hope to hear from you!

Stay safe and healthy, and keep music in your life.
Best regards,
Mark
PURCHASE HERE
Jazz Piano Method
by Mark Davis The Hal Leonard Jazz Piano Method is a comprehensive and easy-to-use guide designed for anyone interested in playing jazz piano from the complete novice just learning the basics to the more advanced player who wishes to enhance their keyboard vocabulary. There are lots of fun progressions and licks for you to play and absorb. The accompanying audio includes demonstrations of all the examples in the book! Topics include essential theory, chords and voicings, improvisation ideas, structure and forms, scales and modes, rhythm basics, interpreting a lead sheet, playing solos, and much more!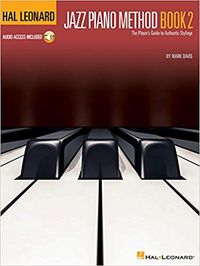 PURCHASE HERE
Jazz Piano Method Book 2
by Mark Davis The Hal Leonard Jazz Piano Method Book 2 is a detailed, easy-to-use guide for anyone interested in furthering their jazz piano skills. There are many harmonic concepts, useful licks, and comping techniques for you to absorb. The accompanying audio includes demonstrations of all the examples in the book. Includes: harmonic exercises; melodic vocabulary; chord progressions and substitutions; melodic minor scale theory; locked-hands style; drop-two voicings; stride; walking bass lines; Latin styles; modern sounds; and much more!
Click here to listen to a radio interview about the Jazz Piano Method. UPDATE: Mark is now the artistic director of the Milwaukee Jazz Institute (MJI) and is no longer affiliated with WCM as mentioned in the interview.
Endorsements for the Books
"Mark Davis introduced me to jazz and gave me an irreplaceable foundation and knowledge of this music. With this comprehensive book, he provides everyone with that same opportunity to learn from a true master of jazz piano tradition and one of the greatest educators of our time. I highly recommend this book to both beginner and advanced players."  – Dan Nimmer, pianist with Wynton Marsalis and the Jazz at Lincoln Center Orchestra
"This is a powerhouse of a book--a real 'owner's manual' for the jazz piano mind. Mark Davis presents the essential material in easily digestible packets, each building on the last, and as a whole building on the concepts from the first book. I'll be referring both beginning and intermediate students to this course." – Geoffey Keezer, multiple Grammy©-nominated pianist (has worked with Art Blakey and the Jazz Messengers, Chris Botti, Ray Brown, Art Farmer, Benny Golson, Joe Locke, Christian McBride, Dianne Reeves, David Sanborn, Wayne Shorter, Sting, and others)
For booking or lesson information contact:
Mark Davis · (414) 350-5047
Go to the contact page to send an email.